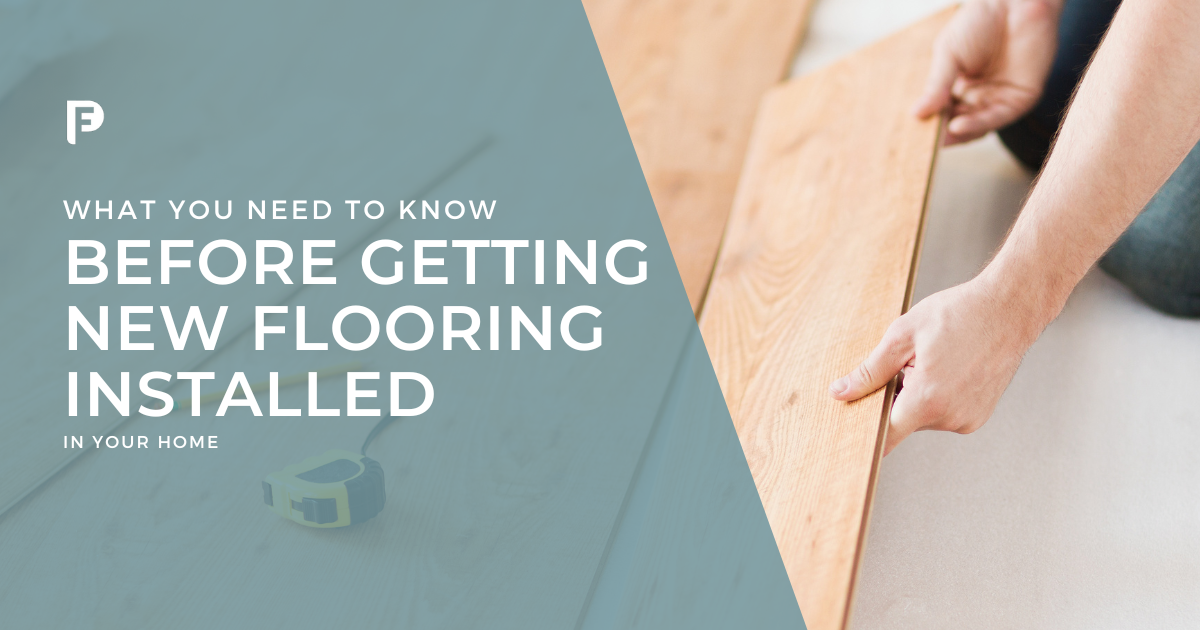 What You Need To Know Before Getting New Flooring Installed
September 6, 2022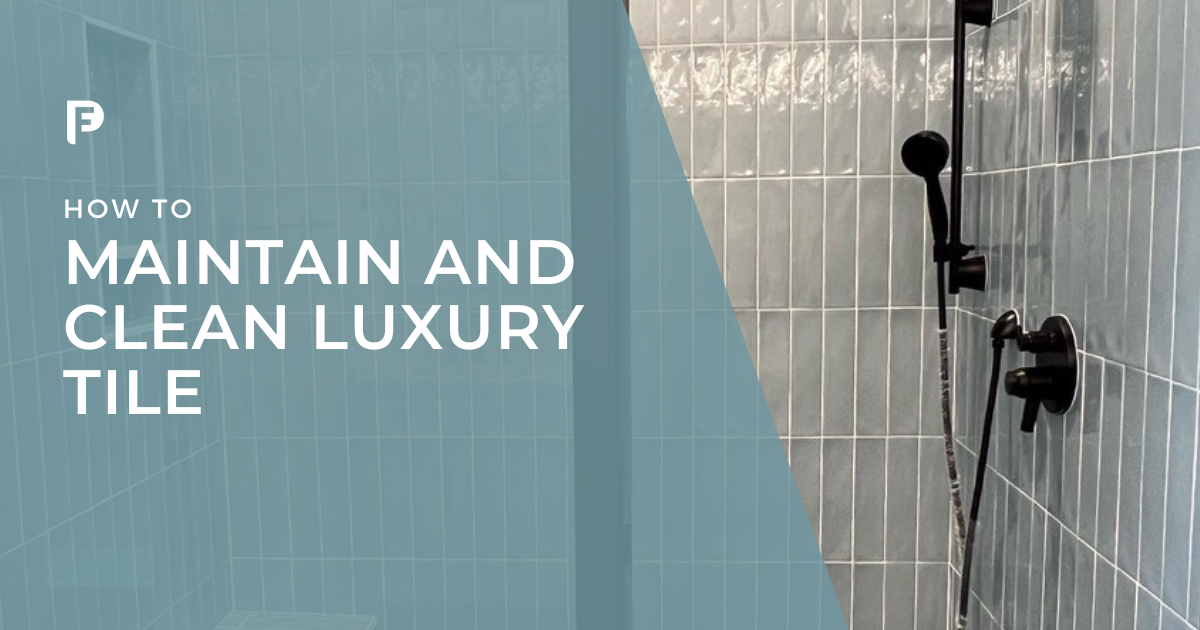 How to Maintain and Clean Luxury Tile
March 16, 2023
As a Homeowner, you will have a lot of decisions to make when remodeling your home. One of the most important decisions is the type of tile grout you will use for your luxury tile installation.
Tile grout has a big impact on the overall look of your floor. Not only does it serve as the boundary between the tiles and the space around them, but it also affects the aesthetic of your luxury tile and even the level of maintenance your tile needs. Read on to learn about grout types you may want to consider and their benefits.
Different Types of Tile Grout
There are four main types of grout that you can use for your tile project. We'll explain the main differences, pros, and cons, so you can make an informed decision on the best grout for your luxury tile project. 
These are the types of grout that we will walk through: 
Sanded Grout
Sanded grout is a mixture of Portland cement, silica sand, water retention agents, and pigments. The main ingredient in sanded grout is Portland cement. This gives it strength and durability. Silica sand is also added to the mixture to give it extra strength and durability as well as give it a smooth finish once installed on your tile. Sanded tile grouts have a longer lifespan than unsanded due to their strength against cracking over time; however, they also tend to be more susceptible to discoloration from chemicals in household cleaners such as bleach or acidic spills like wine stains.
Pros: It is on the lower end of the price scale for types of grout available, it is easy to work with, allows for larger grout joints and most installers have lots of experience with it. 
Cons: While cheaper, the grout is on the lower end of overall quality. The downside is that the grout color can be uneven, it is prone to staining and unless you're using premium sanded grout, the abrasive sand can scratch some tile surfaces such as glass, polished stone, and stainless steel tile. Sanded grout needs to be sealed, ideally once or twice a year.
Unsanded Grout
Unsanded grouts are made with cement, water, and pigments to give them color. The addition of these pigments to the mixture increases its contrast against the tiles and provides a decorative effect.
The lack of sand particles allows it to flow between very small grout lines, typically utilized for smaller format tiles. Since it is non-abrasive, it was the best option for delicate tile surfaces such as glass tiles, natural stone tiles, metal tiles, and ceramic tiles as it won't damage the surface during installation.
Pros: Cheap, easier to work with on vertical surfaces such as walls. It allows for finer grout lines, won't scratch even the most delicate tile surfaces, and it doesn't need to be sealed. 
Cons: As it cures and the water evaporates, it is prone to discoloration as well as shrinking and cracking due to the lack of aggregate (sand). Unless you're dealing with a metal/stainless steel tile, it is not recommended, especially when premium sanded grout is an available alternative.
Premium Sanded Grout (Fine Aggregate) Alternative
A better replacement for sanded or unsanded grout is a premium sanded grout. It has extremely fine sand particles (FA) that are rounded, making it suitable for thin and thick grout lines. It is safe to use on more types of tile like glass and polished tile without running the risk of scratching.
This premium alternative is only slightly pricier than conventional sanded and unsanded grout but is still a cost-effective option with the added benefits of shrink resistance, increased stain resistance, even coloration, and lower water absorption.
Acrylic Grout
Acrylic grout is a professional-grade single-component grout that comes premixed out of a bucket and performs much better than sanded grout as it is stain-resistant. The premixed formula is easy to work with and shares many benefits of epoxy grout. 
Pros: Extremely mold and mildew resistant, stain resistant and crack-resistant. It is suitable for most applications and tile surfaces while maintaining high color consistency. It doesn't need to be sealed.
Cons: More expensive than traditional grout and is slightly less stain resistant than epoxy. This grout type is not recommended for pebble installations or with tile that requires any grout lines over ½" wide.
Epoxy Grout
Epoxy grout is a mixture of Portland cement, silica sand, water retention agents, and pigments. It has similar properties to cement grout but comes in a more limited choice of colors. Epoxy grout is more expensive than the standard cement version because it's composed of higher-quality materials and requires less maintenance over time.
Epoxy grout is the king of all grouts. It comes in two or three parts that are mixed together to create a chemical reaction that needs to be applied quickly and in small batches. It's a bit like pushing soft plastic into grout lines, so it's a tricky installation that requires experience and good technique.
Epoxy grout is extremely tough; standing up against water and chemicals. It is the best option for high-traffic areas, industrial and commercial spaces that are exposed to repeated moisture, and cleaning chemicals such as showers, steam rooms, kitchens, and bathrooms. 
Pros: Superior material that is chemical resistant, stain resistant, and impervious to water. It offers color consistency and is easily cleaned, making it the best choice for light-colored grout. Doesn't require sealing.
Cons: Most expensive grout. Because it is more difficult to install it usually increases the amount of time needed for installation.
Preferred Flooring's Recommended Grout Choices:
Laticrete PermaColor Select Grout
PermaColor Select Tile Grout is a cement-based grout that has been formulated to resist stains, mildew, and mold. This high-quality, low-maintenance tile grout can be used in both indoor and outdoor applications. PermaColor Select is designed for use with tiles of all shapes and sizes from 2″ x 2″ up to 12″ x 24″ (and larger).
Mapei Keracolor Grout
Mapei Ultracolor Plus FA is an ultra-premium, fine-aggregate, fast-setting, polymer-modified, color-consistent, nonshrinking, efflorescence-free grout for joint widths from 1/16″ to 3/4″ (1.5 to 19 mm). 
Get Expert Advice on Which Tile Products to Choose
We hope that we have helped you to choose the right grout for your tile. Whether it is cement, epoxy or resilient tile grout.
If you are still unsure about what luxury tile and grout you should use for your home remodel, work with the experts from Preferred Flooring & Tile. Visit our design center, located in Raleigh, North Carolina and you'll find a helpful team ready to answer your questions and guide you toward the best luxury tile installation. When you make your tile selection appointment be sure to ask us about our grout recommendations