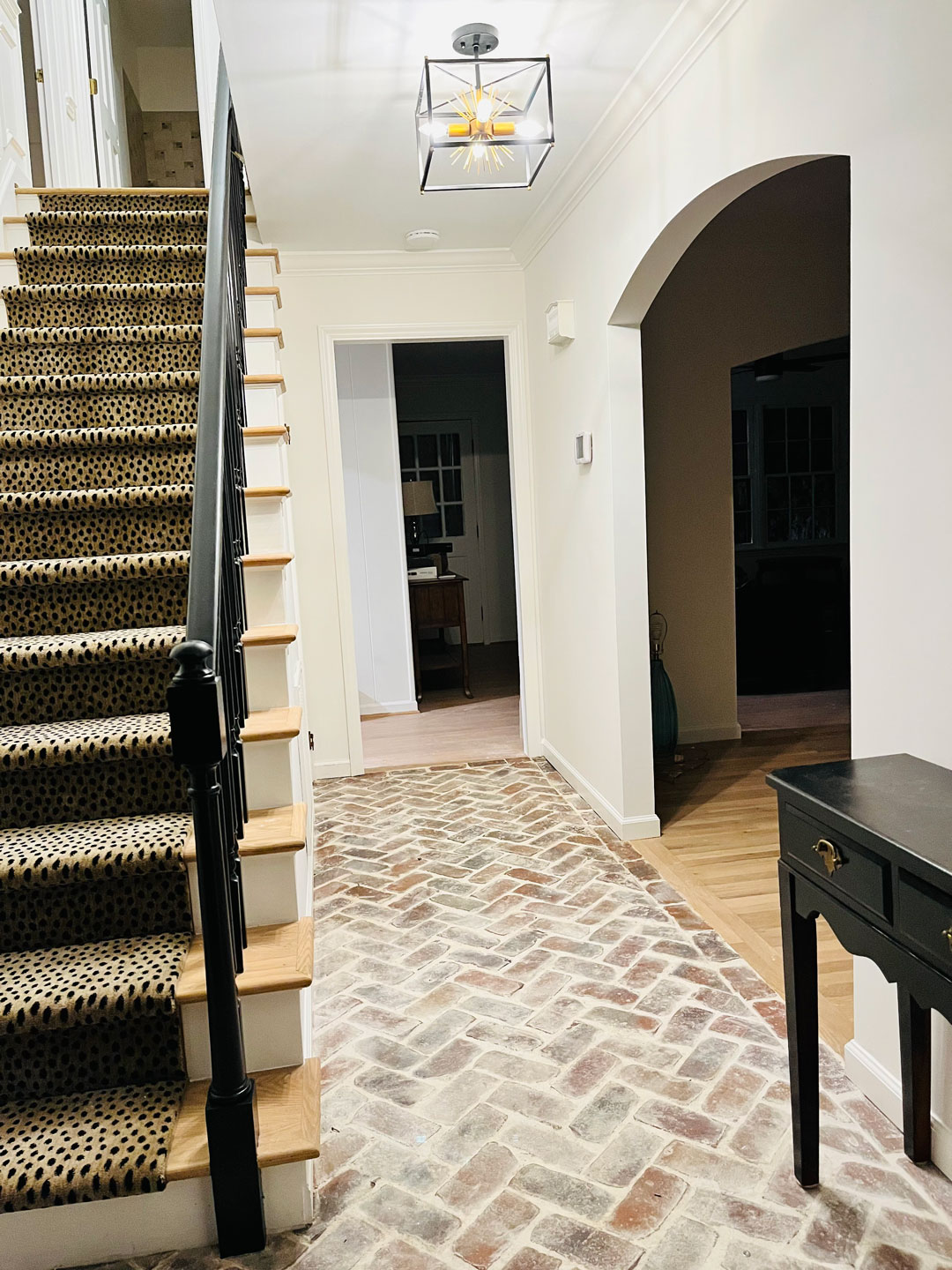 Dramatic Transformation of an average staircase into a focal piece of art
April 28, 2022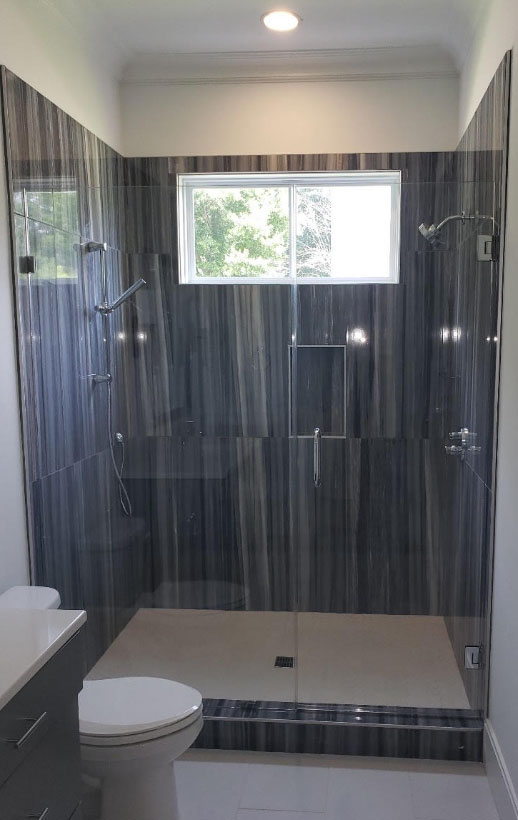 Preferred Flooring & Tile Installations for Summer 2022
August 8, 2022
New flooring can work wonders for improving the aesthetic of your home. But many homeowners feel overwhelmed by the options and unsure about what type of flooring is best for them based on their lifestyle and existing home features.
When evaluating new flooring, your primary options include:
You may be asking yourself, what are the biggest differences between these products, and how do I know which one to pick? We'll break down the pros, cons, and use cases for these flooring types to aid you in making this important decision for your home.
What is Laminate Flooring?
Laminate flooring offers budget-friendly, yet attractive and durable flooring for homes. This option provides engineered wood often made from wood byproducts. It often can offer durable water resistance (not water-proof) features and can mimic the look of wood.
For homeowners with pets, children, or heavy household traffic, laminate flooring could be a good choice because it is less likely to scratch or need resurfacing like wood flooring. The main reason most choose laminate over vinyl or hardwoods is that it is far less expensive. For DIY'ers, laminate is a go-to choice because it is more possible for skilled homeowners to install it themselves.
Laminate Flooring Pros:
Plenty of options, colors, and designs
Budget-friendly
Simple to clean
Durable
Doable for DIYers
Laminate Flooring Cons:
Man-made materials have a finite lifetime
Cannot be refinished or sanded when flooring begins to look worn
Laminate provides water resistance, but they are not waterproof meaning it can warp when subjected to repeated water exposure
Poor installation can lead to issues, including warping or gaps
What is Vinyl Flooring?
Vinyl flooring is one of the most flexible and versatile flooring options out there. It is extremely affordable and can meet the needs of any style of home or project.
You can get vinyl flooring in planks (LVP) or tiles (LVT) to meet your needs. And because it fits together using a similar snap method as laminate flooring, handy homeowners can install this flooring material themselves.
Sheet vinyl can be more challenging to work with and require expertise most homeowners don't have. That's because you must cut the sheets just right before gluing them down to ensure you don't have visible gaps or voids in the floors.
Vinyl Flooring Pros:
Wide variety of designs and styles
Water-proof
Affordable
Easy to install
Water and scratch-resistant
Offers some shock absorbance to create a comfortable feel for your home
Vinyl Flooring Cons:
Can experience dents, making the flooring less attractive with time
Can emit volatile organic compounds (VOCs) if you purchase low-end products
Challenging to remove or replace if a plank or tile is damaged
Take a look at some of the luxury vinyl flooring products we carry at Preferred Flooring in Raleigh, NC. Or schedule an appointment to tour the vinyl products in our showroom.
What is Hardwood Flooring?
By far, hardwood is the most expensive option to install in your home. But it also has a far longer life expectancy to provide longevity and the ease of not having to worry about replacing your floors every 10-20 years.
What many homeowners may not know is that there are two different types of hardwood flooring to consider. When choosing to install hardwood floors you have to consider whether you want to use engineered hardwood or natural site-finished hardwoods.
Natural Solid Hardwood Flooring
Solid wood flooring is often made of hardwood species like maple, walnut, oak, or cherry. Because it is solid wood, this type of flooring can easily be sanded and refinished over its lifespan to maintain its appearance. However, you have to watch out where you install it because below-grade installation can lead to too much humidity for the floors, which can cause warping and damage.
Depending on how you're planning to use and install your hardwood, you can purchase it unfinished or finished. That way, you can stain it with a custom color if desired or enjoy the ease of installing without the need to stain or seal the flooring.
Solid Hardwood Flooring Pros:
Wide variety of designs and styles
Durable
Hypoallergenic
Can improve the value of your home
Able to refinish for long-term flooring for your home
Solid Hardwood Flooring Cons:
Expensive upfront cost
Requires actively maintenance to retain its quality
Cannot be used in humid, moist areas
Can be noisier than other flooring types
Prone to scratches and can experience crowning and cupping
Engineered Hardwood Flooring
Engineered wood flooring is made to look and feel identical to hardwood flooring but it only uses a thin layer of hardwood to achieve the appearance of solid hardwood and often uses plywood (layers of birch) at its base.  Because the solid wood top layer is a thin layer of hardwood, it can't be refinished as often as solid flooring unless the wear layer is 3 or 4 mm thick, but it can still last up to 30+ years with the proper maintenance. Engineered hardwood often can be less susceptible to warping (cupping) or separation between the boards than solid hardwoods because of the multiple layers of wood that make up the body of the plank.
Engineered Hardwood Flooring Pros:
Lower cost compared to solid hardwood
Not as sensitive to changes in temperature or to moisture which cause warping
You achieve the same look and feel of solid wood flooring
Engineered Hardwood Flooring Cons:
Expensive upfront cost
More limited resurfacing options than solid hardwood flooring
Depending on the product the veneer layer may not be thick enough to handle sanding and resurfacing
Requires actively maintenance to retain its quality
Take a look at some of the luxury hardwood flooring products we carry at Preferred Flooring in Raleigh, NC. Or schedule an appointment to tour the hardwood products in our showroom.
Deciding Factors for Flooring Types
So now you know more about the various flooring types and options. But you might still have questions about how to decide on the best flooring for your home. Here are some deciding factors for whether you should install laminate, vinyl, or hardwood in your home.
Your Lifestyle, Environment:
If you have children or dogs, you might want to go with more durable flooring options that are scratch-resistant. That way, you don't need to replace or resurface your floors as often.
Your Past Experience With Products:
Issues with water damage can dictate the best option for your flooring type. Moist environments, such as basements, kitchens, and bathrooms, are often best served with vinyl floors that stand up well to this moisture.
Your Current Door Casings:
Evaluate how far off the ground your door casings are. If your existing flooring is thick, you'll have to replace your door casings if you install a thinner flooring option or live with an awkward gap between the casing and the floor. You can always cut casing to meet the needs of thicker floors, but thinner floors can present challenges.
The Cost & Height of Your Existing Floor:
As you transition from one flooring type to another within a home, you'll need to think about how smooth those transitions will be. Your subflooring height can impact your selection of flooring material.
Maintenance:
Maintaining hardwood floors day-to-day is simple because you can just vacuum and use an approved hardwood cleaner with a micro-fiber on them. But then you'll need to resurface and sand them when they begin to look scratched or worn. The day-to-day is a bit more involved for vinyl and laminate floors to protect their sealants and artificial materials, but you won't have to worry about resurfacing.
Waterproofing and Scratch Resistance:
As described above, laminate, vinyl, and hardwood floors all have their pros and cons when it comes to waterproofing and scratch resistance. Consider your needs on these fronts before choosing your flooring.
Width and length of plank:
Different types of flooring come in different plank widths and lengths. This will impact how the flooring looks and how easily it fits around challenging obstacles within your home.
Overall Look and Feel:
Some home styles just call for a certain type of flooring. Without redoing your entire interior, you need to install a certain type of flooring to meet those requirements. Evaluate your home's look and feel before making your selection.
Get Expert Advice on Which Flooring Products to Choose
Still unsure about what flooring products will be best for your home based on your needs and your home's existing characteristics? Bring in the experts from Preferred Flooring & Tile. Our design center, located in Raleigh, is more than 6,500 square feet. You'll find a helpful team ready to answer your questions and guide you toward the best flooring based on your requirements. Contact us now to learn more.