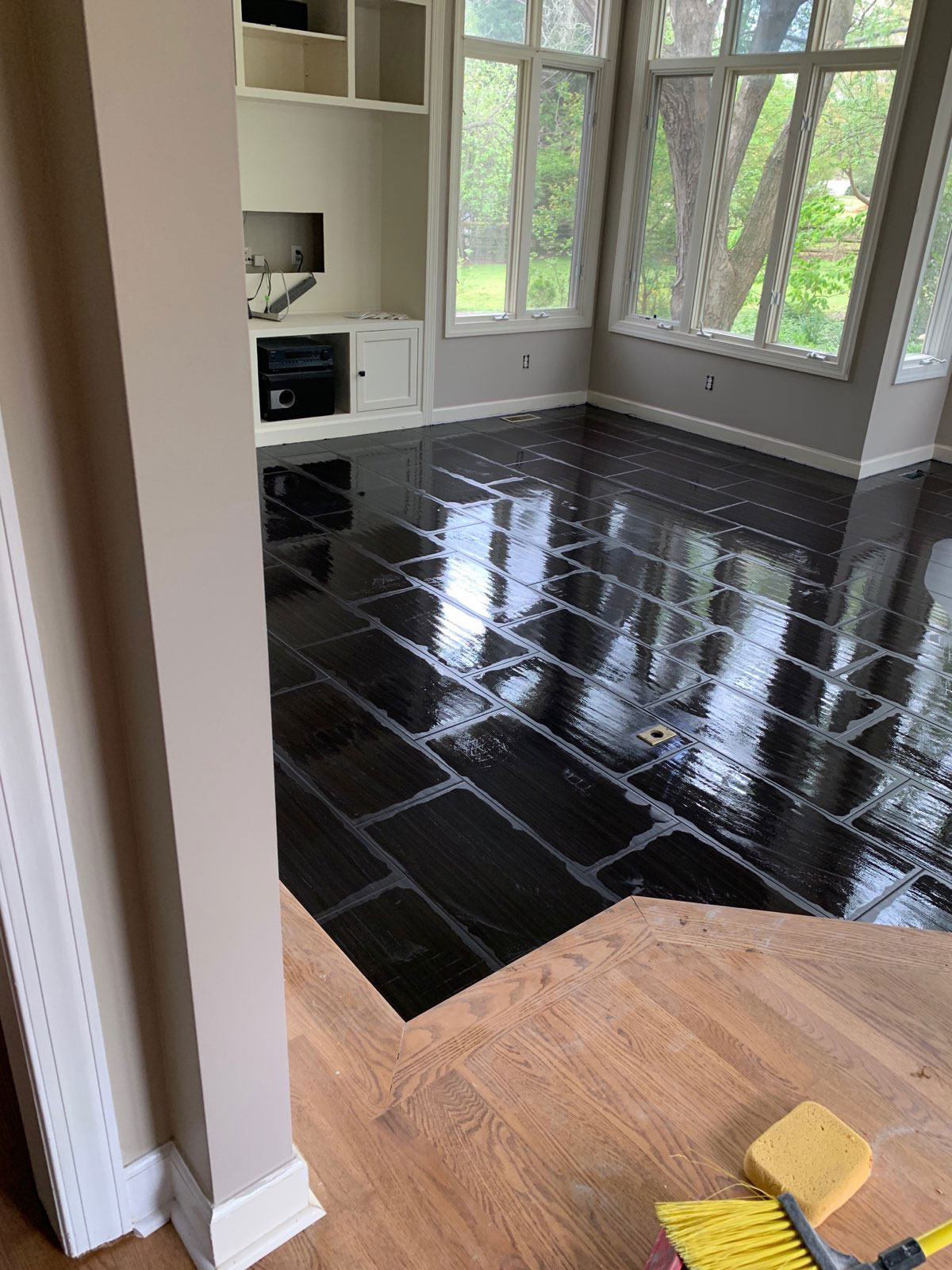 Tile Installation: 15×30 Jaipur Midnight in Raleigh, NC
April 2, 2020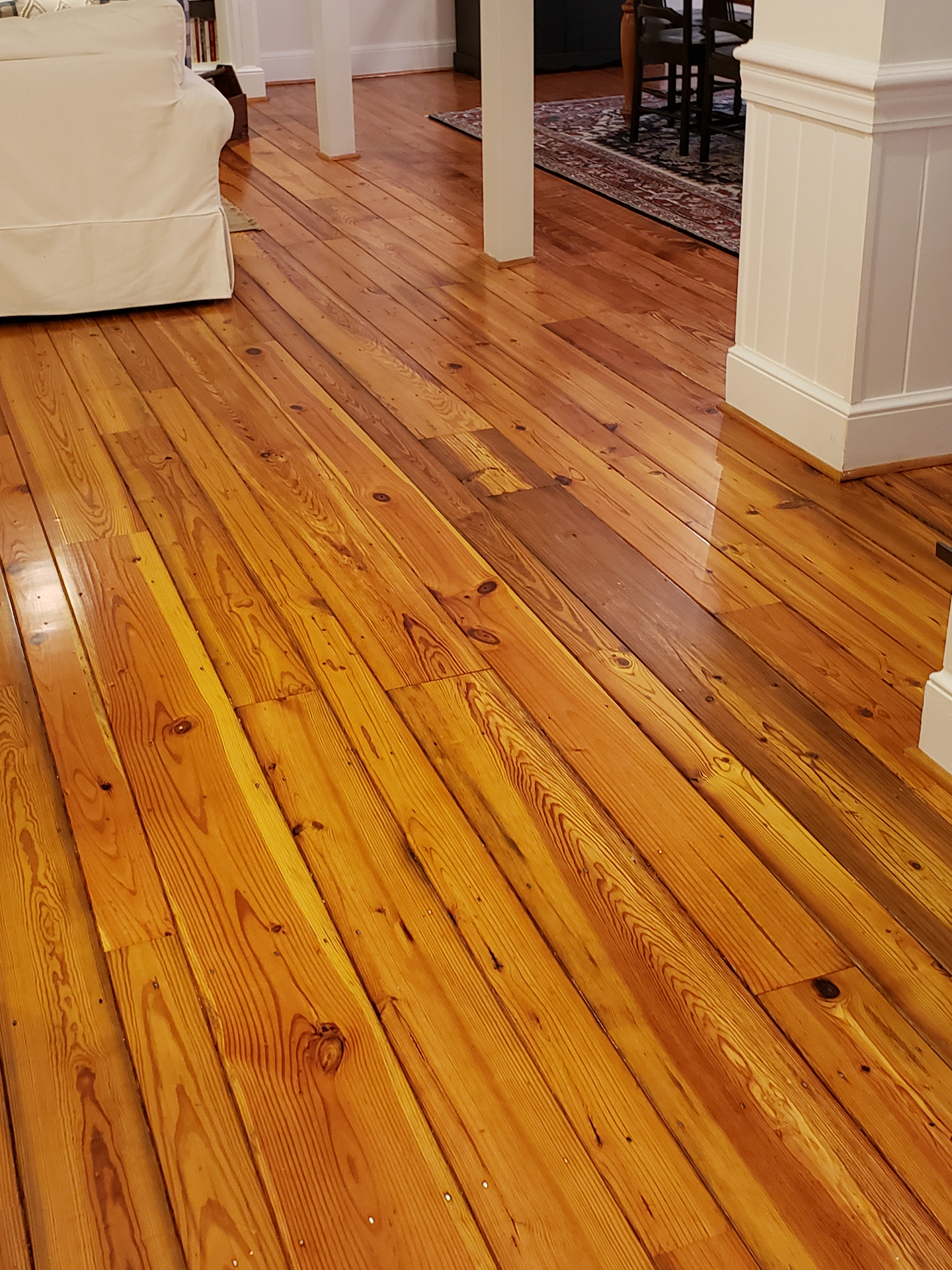 Sanded and Finished Pine Hardwoods in Raleigh, NC
December 18, 2020
Locating good flooring contractors you can trust to work in your home is challenging. Not only do you want to feel good about the people who will be in your home completing the work, but you also want to know that the finished product will look great.
Finding the perfect residential flooring contractor shouldn't hold you back from improving your home. Here are some tips to know you've found a trustworthy and reputable residential flooring contractor.
Ask for recommendations
Take some time to ask your friends and neighbors if they know a good residential flooring contractor. Even if they haven't done a flooring project recently, they might know someone who has.
Once you get some referrals, do some online research to learn more about the company. See if they have specialties as far as the types of flooring they work with or the sizes of projects they prefer.
Read online reviews
Read some online reviews to learn more about the company before reaching out. You might learn that the contractor was slow to respond, left the project site messy or was otherwise unreliable.
Just realize that one bad review doesn't mean the company is a bad choice necessarily. Instead, look for trends to see what the company is really like and learn more about what to expect when working with them.
Contact residential flooring contractors
Now that you've done so much preliminary research, you're ready to get in contact with your lead contenders. Discuss your project, expectations and any timelines you might have.
Some residential rooms have challenges or limitations. You might want to mention any quirks about the project at this time as well. A good residential flooring contractor has probably seen it all but sharing these details could help you get a more accurate quote and move your project along quickly.
Meet with the contractor
If you're planning to visit a flooring contractors showroom, come prepared with photos of the space you're planning to floor. This will help guide the contractor in speaking directly to your situation. Plus, this way the team of experts can make recommendations for the best flooring for your space.
Take some time to discuss your project with the contractor. See how the contractor makes you feel and how well they explain things to you. It's perfectly appropriate to leave and not work with that contractor after an initial meeting if it doesn't feel like the right partnership to you.
Some questions you might want to ask the contractor include:
Tell me about some projects that were similar to mine in size.
Are you able to share a referral list for a few of your clients so I can see how their experience was? (This is especially important if you're interviewing flooring contractors that you found via the internet without referrals).
Can you tell me about your business's insurance in case something goes wrong in my home?
Ask to see photos of completed work and a contract
If you do like the contractor after your first meeting, ask to see photos of their completed work. Most contractors have a portfolio of work that they carry with them for quick and easy sharing.
Look closely at the photos to see if the rooms or flooring types share any similarities with your project. Also pay attention to the fine details, such as corners or around cabinets.
Once you've seen the photos and know whether or not you plan to move forward with the contractor, ask to see a contract. This should include the details of your project, the price you can expect to pay for the labor and materials and the expected completion date.
For projects where you plan to pay using a payment plan, be sure those details are clearly outlined. Some contractors also request that part of the project be paid before starting the work, so make sure you understand those terms as well.
Be careful paying a contractor in full before the work is complete. In some cases, this gives you no leverage if something goes wrong with the contractor. But if you must pay in full before the work begins, pay using a credit card for added protection.
Review the contract's scope of work
An important aspect of the contract is the scope of work. For example, the contractor might charge extra to remove baseboards or trim. And in the course of removing these items, they might become damaged. Understand who is responsible for repairing that damage as part of the scope of work.
Discuss with your contractor the state of your subfloors. You might need to do some repairs to those before flooring installation, or could get it added to your scope of work if you'd like your contractor to do these repairs.
About Preferred Flooring and Tile
If you're looking for a residential flooring contractor with a showroom to view samples, contact Preferred Flooring and Tile. We'll guide you through choosing the best products for the value to meet your budget and your expectations for a project. We install engineered hardwood, site finished hardwood, luxury vinyl planks, ceramic tile, and carpet so we can take on any project, even those with various flooring types.
Come see our 6,500 square foot showroom in Raleigh, North Carolina, and meet our skilled team! Or, get in touch to discuss your project over the phone.